Fungal fermentation product for monogastrics



Stabilization of the gastrointestinal system
Increased nutrient and energy availability
Improved zootechnical performance parameters
Description
MAXFERM is a functional fermentation product that maximizes feed utilization when added to pig and poultry diets. It is produced through a solid-state fermentation process using selected strains of Aspergillus niger, Aspergillus tubingensis, Aspergillus oryzae, Aspergillus sojae, Neurospora intermedia and a specified range of substrates.

MAXFERM is a fungal fermentation product material that maximizes feed conversion in rations with a high content of non-starch polysaccharides.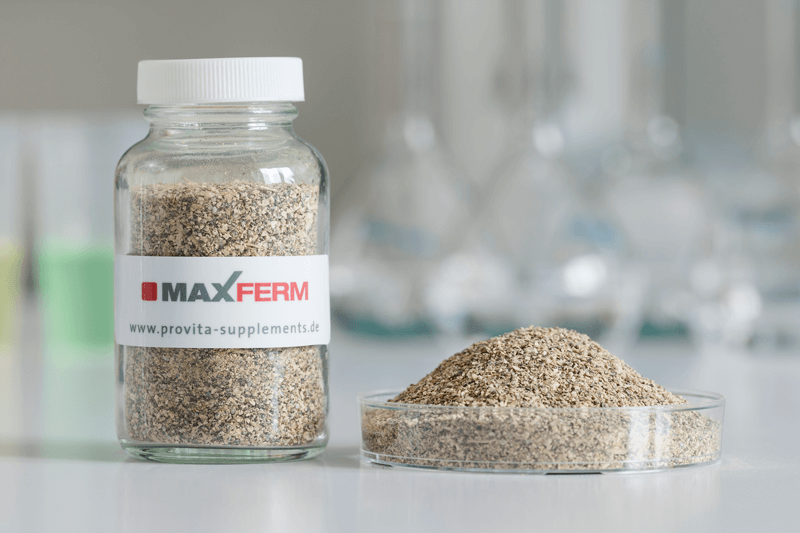 MAXFERM is a fungal fermentation product for monogastrics specially developed to improve protein availability.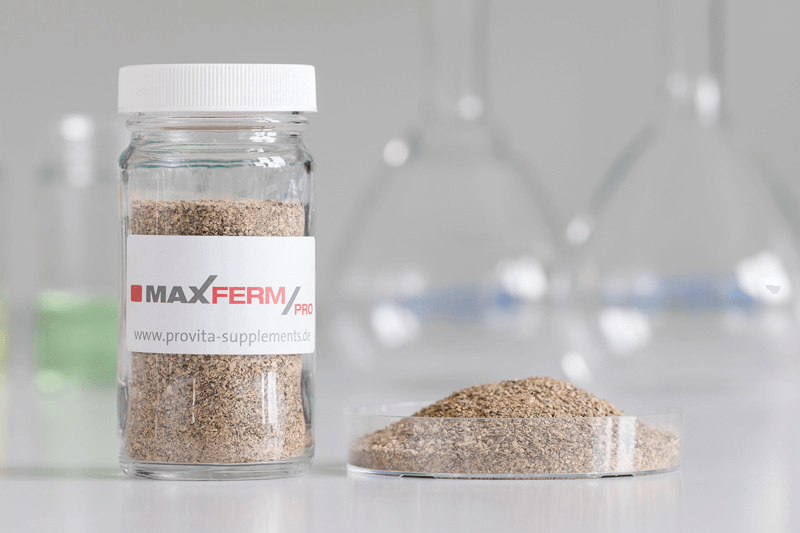 MAXFERM/ECO is a fungal fermentation product to improve nutrient utilization in organic poultry and pig feeding. It is listed in the FiBL and complies with the regulations (EC) No 834/2007 and (EC) 889/2008.
ECO confirmation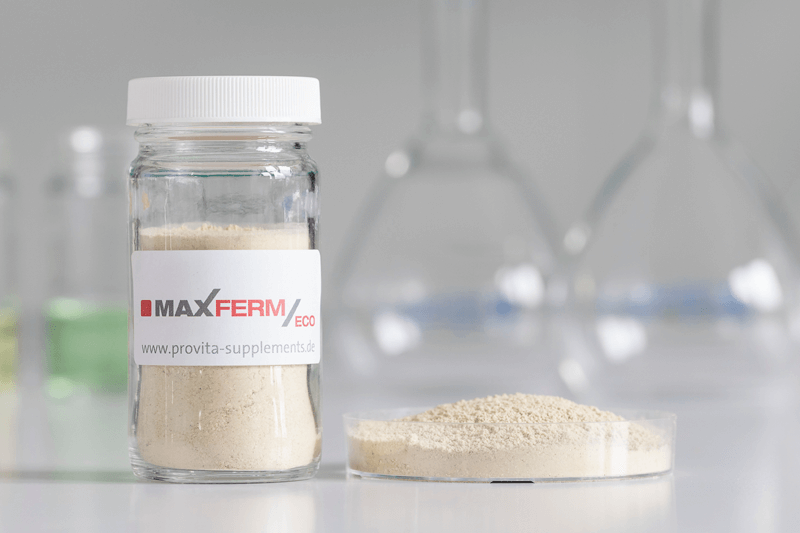 Mode of action
MAXFERM IMPROVES NUTRITIONAL VALUE OF FEED
Improved feed conversion and the selective use of grain types containing high amounts of non-starch polysaccharides (NSPs) are key factors to reduce feed costs. NSPs are found primarily in plant cell structures. However, monogastric animals have no digestive enzymes that allow them to break down NSPs. Supplementing animal feed with MAXFERM minimizes the adverse effects of NSPs and increases the bioavailability of nutrients.
Trial results
INCREASES FEED UTILIZATION AND DIET DIGESTIBILITY
MAXFERM stabilizes the gastrointestinal tract and improves the availability of valuable protein, starch and fat. At the same time, MAXFERM creates a nutrient medium for intestinal bacteria, and its prebiotic properties support the development of a healthy gastrointestinal flora, especially in broiler chicken. A broiler chicken trial with MAXFERM clearly shows better protein and fat digestibility in the intestine than the negative control. Even compared to the positive control, MAXFERM shows comparable or even better effects. As a result, MAXFERM can increase energy utilization by about 0.3 – 0.5 MJ MEN-corr./kg and reduce fecal nitrogen excretion by 10%.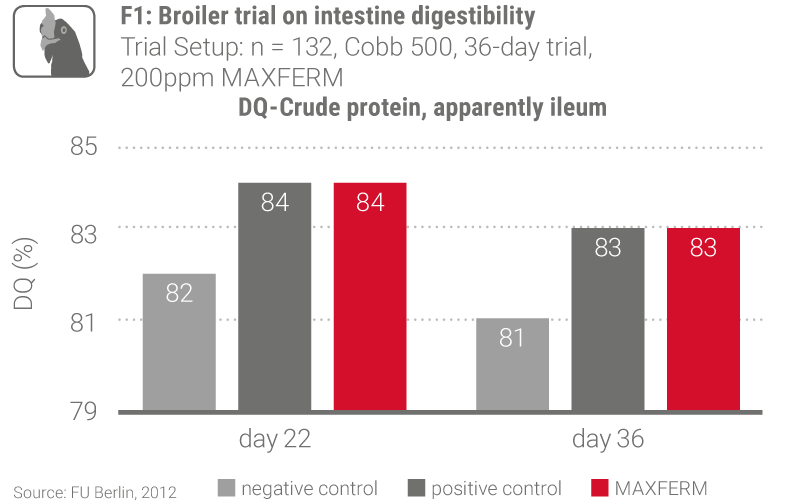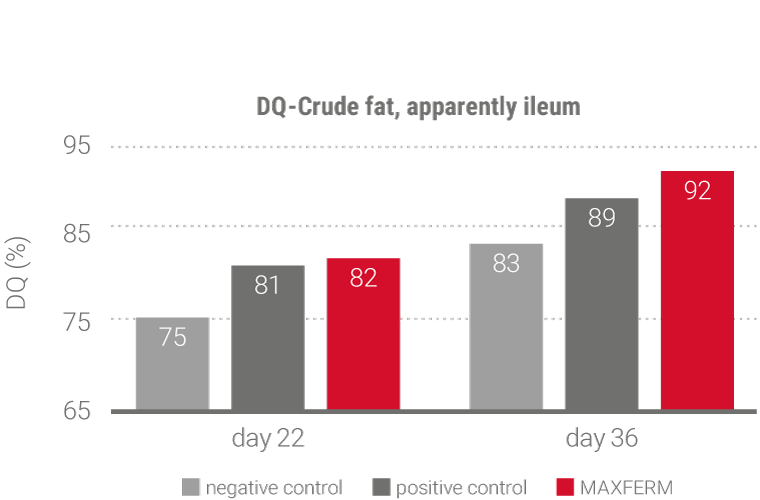 INCREASED PIG PRODUCTION PROFITS
Successful and profitable pig production relies on high daily weight gain and efficient feed conversion. MAXFERM increases piglet performance by boosting both feed intake and feed conversion immediately after weaning (F2). Furthermore, a trial with 400 grow/finish pigs showed performance advantages achieved by MAXFERM. During the finishing period, weight gain was 25 g/day higher than in the control group, and feed conversion improved 4%.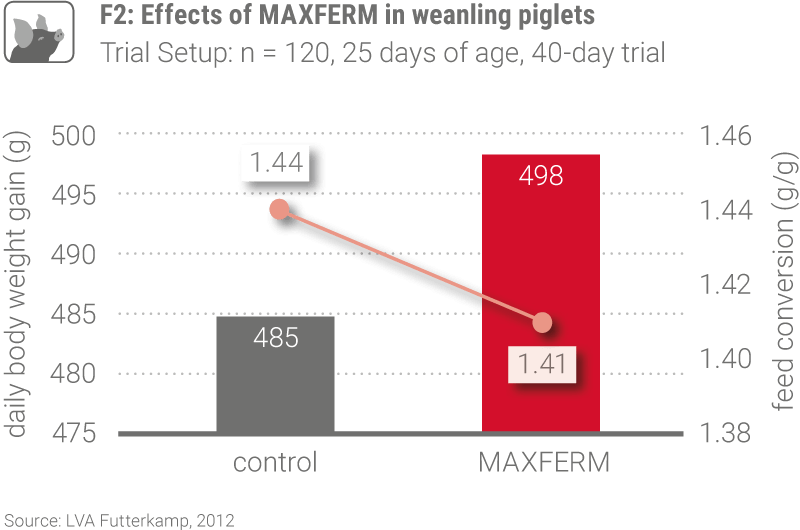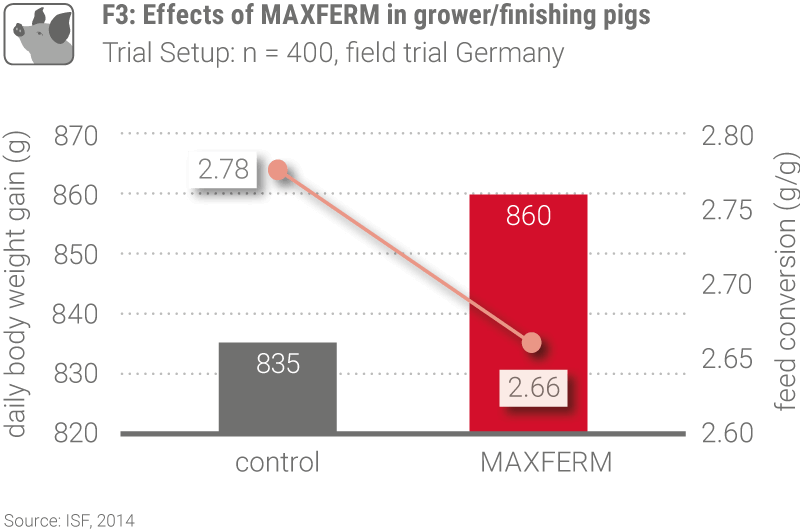 IMPROVES PERFORMANCE IN BROILER CHICKENS
Research shows the performance potential of MAXFERM on broiler chickens. Live weight gain and feed conversion both improved over the five-week trial period. Adding MAXFERM to feed resulted in an increase in the final finished weight of more than 80 g. Animals also exhibited greater vitality and homogeneity, resulting in an increase in profitability.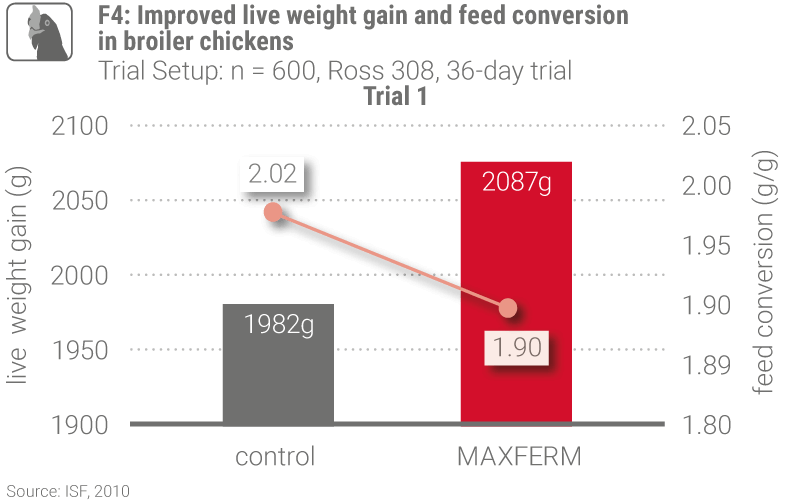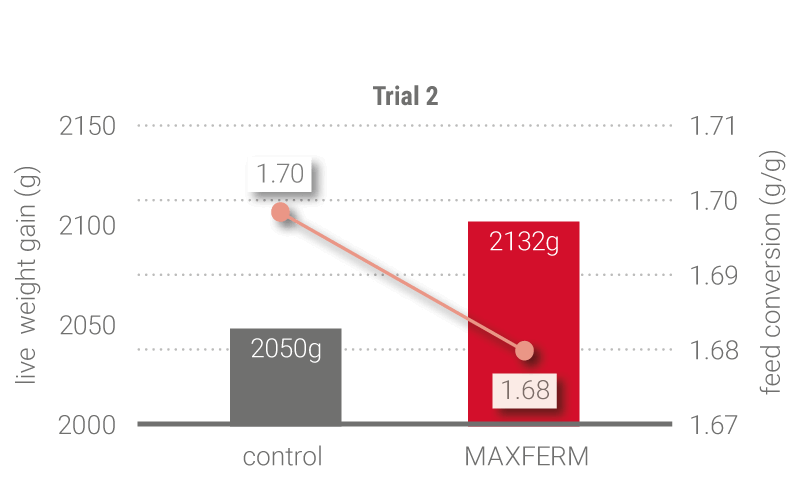 IMPROVES GROWTH IN WHITE SHRIMPS
Data from feeding trials suggest that the addition of MAXFERM to the diets of white Shrimps (P. vannamei) before the extrusion process improved the growth performance. In a 29 days feeding trial, the average weight gain per week was improved by 17.5%, while the specific growth rate improved by 0.2 points per day (+12%).